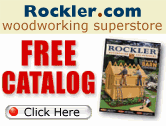 Navigation:
---
» Articles & How-To's
» Books & Videos
» Featured Artist
» FREE Catalog
» Furniture Kits
» Furniture Plans
» Hardware Store
» Links & Resources
» Mission Plans
» PC Routers
» Rockler Plans
» Site Map
» Unique Hand Tools
» WOOD store Plans
» Woodcraft Plans

The completed project measures 27" in diameter x about 48" tall.


If you're a do-it-yourselfer looking to freshen up the yard this spring, try making a wish. It's easy with this pretty little wishing well-just close your eyes, toss in a coin, add some potted plants and flowers and you'll find your wish has come true. It's really that simple to create a colorful new focal point for the landscape.

As inexpensive as it is easy to build, the wishing well requires a small quantity of standard redwood lumber (as pictured; pine, cedar or treated lumber work just as well), a 4-by-4 sheet of plywood, some shingles (cedar or asphalt), a dowel, fasteners, glue and finish.

The project features full-size traceable patterns for all the curves and angles, making construction a breeze. To build, simply trace the pieces onto wood and cut everything out. Next, assemble the well and roof separately. To finish, combine the well and roof, add shingles and seal, paint or stain.
Two all-time favorite projects in a special pattern set!


This octagonal shaped wishing well will look great in your yard or garden. Full-size pattern includes complete instructions & assembly diagrams. Measures 57" tall.

The rustic-looking cedar pail displays flowers or plants inside the wishing well projects or by itself. Easy to make with our full-size pattern. Measures 9-1/2" dia. x 10" tall.

» Complete paper pattern
» For the Do-It-Yourself Woodworker
» Painting Instructions
» Assembly Instructions