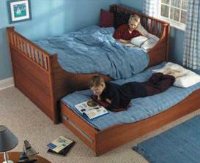 You're always ready for company with our modern twist on the time-honored trundle. Plus, those little ones can actually get a good night's rest while also enjoying the fun of sleeping on this unusual bed-they'll probably squabble over the bottom bunk for a change! Rockler has incorporated simple bed hardware and ultra-large slides to make a sturdy and beautiful bed. The one shown here is made of Mahogany, but you could use any hardwood or softwood you prefer, and it will be equally attractive.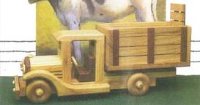 If you are a parent or a grandparent, then you know that one of the real pleasures in raising children is in sharing their delight at receiving a special gift. This Toy Livestock Truck is one toy that's sure to have the little ones wide-eyed once they spy it beneath the Christmas tree.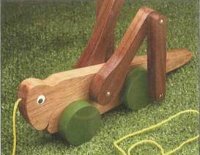 When in close proximity to this Grasshopper Pull Toy, small faces tend to break out in wide smiles. Even adults may have trouble suppressing little muscles pulling at the corners of the mouth. It's altogether too goofy looking to take with a straight face. The little grasshopper is also sure to give the builder a few hours of relaxation in the shop. It's a nice break from more challenging projects. All you need is a few scraps of wood and some dabs of paint. Almost any kind of wood will do for a small toy like this.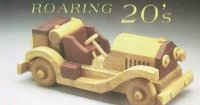 If you're a classic car buff, this Sports Car may bring back memories of the Reo, once considered the world's premier touring car. One of the best parts about making toys like this is that there's no complicated joinery. But even better yet, most of the parts can be gleaned from your scrapbox.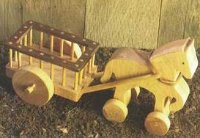 This whimsical Horse and Cart is always a big hit with the little folk. It's a project you can easily complete in an afternoon, and best of all it doesn't require any special woodworking equipment. You'll probably find most of the wood needed for this project in your scrap bin.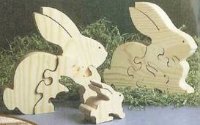 Most of us enjoy the challenge of a good puzzle, but young children seem to be especially fond of them. Since there are only four parts, this makes a wonderful first puzzle for toddlers. And because the parts are large, they don't present a choking hazard.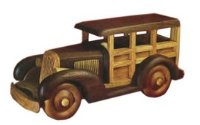 The Wonderful Woody Wagon is made from a combination of Walnut and Oak, but feel free to substitute other combinations using what you have available in your scrap box. We say scrap box, because this is an ideal scrap box project, with no single piece longer than 12-1/4''.