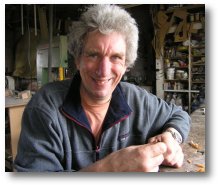 Peter Lloyd - master craftsman
When, about 20 years ago I decided to leave my job teaching craft and design I needed to be able to feed my family.

My workshop at that time was an old aviary and what was made to house budgerigars was certainly not big enough for me to make large pieces of furniture. So I had to think small.
I had made a jewellery box for an old girlfriend that had been particularly well received I set out along the box making path.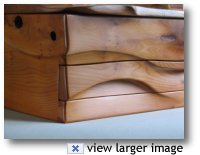 I made my first box from a beautiful piece of burr oak and it was immediately snapped up by a friend who bought it for her parent's wedding anniversary. I'll never forget that feeling of someone actually wanting to pay good money for something I had made – I was amazed! That was box number one and I have just finished box number 949. Someone has already commissioned box number 1000 and it will be rather special.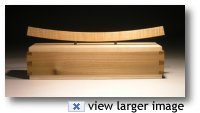 My style and techniques have of course evolved over the years but I suppose that my "trademark" is the wood itself. I let the wood speak for itself and look at it long and hard before deciding how the nature of the wood will affect the design of the box.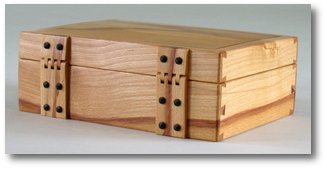 I also make the whole of the box from wood including the hinges. I scour the country for wood and will travel for miles if I hear of something really special – I love the ruggedness of burr oak and the silky smoothness of ripple sycamore.
I like to use wood from trees that have reached the end of their natural life or been felled by a storm and I also like to know where the tree is from. I once used oak from Hever Castle in Kent and daydreamed about Anne Boleyn walking in its shade.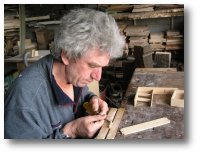 It seems to me that making a box from a beautiful piece of wood extends the life of the tree as hopefully my boxes will go on into the future. Recently I was offered some wood that was taken from HMS Victory following its restoration. Going down to Norfolk to choose some pieces was an amazing experience – a whole barn full of the most amazing aged pieces of oak I have ever seen and the smell of all that history sent shivers down my spine! I've made some interesting boxes from the Victory oak complete with the holes where the ship was fixed together with huge oak pegs.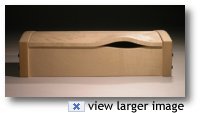 I love making boxes and feel that it allows my imagination to roam all over the place. However I was humbled a few years ago when I and fellow box maker – Andrew Crawford decided to stage the first ever international box exhibition. We invited box makers from all over the world to submit their work and we chose around 60 of the best. The range of talent and design was truly inspirational and the exhibition was stunning. It toured the UK and was enthusiastically received by all who went to see it.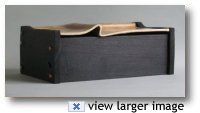 Everyone loves boxes, everyone has boxes. No one can look at a box and not want to open the lid – there is always a mystery to boxes and I hope that they will continue to inspire me. I still have a head full of new ideas that should last me for a long time to come.
Peter Lloyd Books

Guided by an experienced woodworker and hundreds of photos, enjoy a full course that covers everything: sourcing and seasoning different woods; choosing and using tools and equipment, and mastering basic techniques (mapping out the design, making dovetails, assembling the internal pieces), and more.

Projects include a strap-hinged box with a curved drawer; a chess box with board; and a skeleton box.
Prizewinning wooden boxes are the subject of this beautifully produced, full-color art book. The selection of boxes included is the result of a worldwide competition for placement in the "Celebrating Boxes" exhibition held at Tullie House, England, in September 2001. Many of featured artists are American, but makers from 10 other countries around the world are also represented. The creation of fine boxes is especially interesting to woodworkers because it combines the skills of the painter, sculptor, and cabinet-maker all in one useful object. This is not a "how to"; rather it is a source of ideas and inspiration for craftspeople.